Zamba – Seal Lynx Point (snow) Female Bengal Kitten
Availability : No longer available.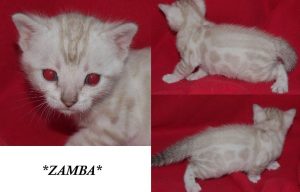 Zamba is a wonderful surprise. I have not yet tested her mom Argyria to see what colors she carries for and now we know she carries seal lynx point (snow)! Zamba might be staying here as part of our breeding program but feel free to inquire and you can be placed on our notification list to see if she becomes available at a later date! You may also check out her siblings Akaw and Choka.
Newsletter
If you would like to receive updates on this or any of our other kittens, please sign up to be added to our newsletter and notification list. If you have any questions please feel free to contact us.