Belafire Jewls Song of KotyKatz
Brown Rosetted Bengal Queen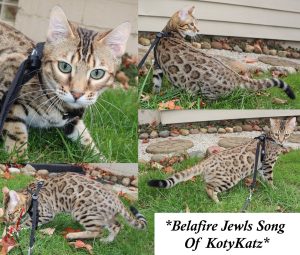 Belafire Jewls Song of KotyKatz will be a wonderful addition to our breeding program! Jewls is a very typey girl with a super personality. She currently shows a nice whited belly, time will tell if it stays. We can't wait to see the wonderful kittens she will produce when matched up with the boys here. I thank my good friend Hollie Baker from Belafire Bengals for making Jewls possible!
Let me introduce myself to you! Click here to see a glimpse of my personality!
If you'd like to see Jewl's pedigree, please click here.
❤ PK-def : N/N PRA : N/N
Newsletter
If you would like to receive updates on this or any of our other kittens, please sign up to be added to our newsletter and notification list. If you have any questions please feel free to contact us.