KotyKatz Liberty
Brown Rosetted Bengal Queen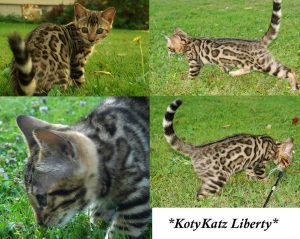 KotyKatz Liberty (Libby) is the youngest of the upcoming queens and is pictured here at 12 weeks of age.
When it came time to retire her mom KotyKatz Latvia from my breeding program I just had to keep her daughter to carry on with those beautiful looks and great personalty!
Liberty got her name because she was born the day before the 4th of July. It turned out to be very fitting in other ways also. Libby is always for the underdog in the kitty wrestling matches here and steps in to help out whomever is on the losing side!!
If you'd like to see Liberty's pedigree, please click here.
If you would like to see our available kittens or if you have any questions please feel free to contact me. You can also join our mailing list!