KotyKatz Cricket
Silver F2 Bengal Queen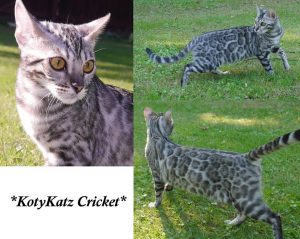 KotyKatz Cricket is a beautiful silver F2, daughter to our Tecspot Meraki of Kotykatz. Cricket has definitely inherited her mom's wild features and beautiful pawprint rosetting. She has the added clarity and glittered coat and of her dad, Simplybengals Sealed With A Kiss.
Cricket loves to play fetch with her favorite little bird toy and has been on a few kayaking adventures which she will continue when the weather warms up!
❤ HCM Negative: March 21, 2017       PK-def : N/N                    PRA : N/N
If you'd like to see Cricket's pedigree, please click here.
If you would like to see our available kittens or if you have any questions please feel free to contact me about being placed on our notification list at [email protected].