KotyKatz Dacre Sweeps
Seal Lynx Point Bengal Stud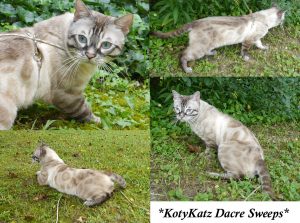 It is with great joy that we announce our newest male addition to the KotyKatz breeding program! Dacre Sweeps (better known as Squishy) is a beautiful Seal Lynx point spotted Bengal with large rosettes and great overall type.
We think Squishy will take after his dad, RW SGC AC Speakeasy Cowboy's Last Ride of Akerrs Bengals, and be a very large cat!
Many thanks to Samantha Kerr of Akerr's Bengals for her part in making this little guy come to be! Pictured here at 4 months of age he still has some growing to do but we have hopes to see his babies early 2019!
Genetically Squishy is APb/APb which is where he gets that beautiful mask.
Let me introduce myself to you! Click here to see a glimpse of my personality!
❤ HCM: Negative September 17, 2019   PK-def : N/N                    PRA : N/N
If you'd like to see Dacre Sweeps' pedigree, please click here.
If you would like to see our available kittens or if you have any questions please feel free to contact me. You can also join our mailing list!