KotyKatz Latvia
Brown Rosetted Bengal Queen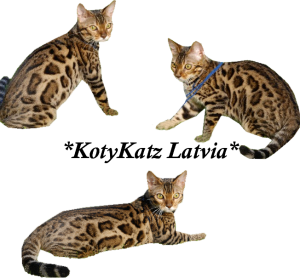 KotyKatz Latvia is a beautiful brown rosetted Bengal with a wonderful pattern and jet black outlined rosettes.  She also has a very wild look which I love! She is loving and active, full of wonderful Bengal character. Her parents are Tecspot Riders On The Storm & Bengalglitz Lollipop.
❤ HCM: Negative September 2016      PK-def : N/N              PRA : N/N
If you'd like to see Latvia's pedigree, please click here.
If you would like to see our available kittens or if you have any questions please feel free to contact me about being placed on our notification list at [email protected].