KotyKatz Silver Spoon
Ice Cold Silver Bengal Queen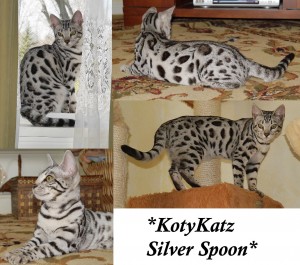 KotyKatz Silver Spoon (Silvy for short) is a beautiful ice cold silver Bengal Queen with amazing contrast, outstanding type, and nice solid body. She has a great personality. She is very sweet and loves to play! Silvy is daughter to our own silver lynx KotyKatz Yaksha & Tecspot Riders On The Storm.  

❤ PK-def : N/N         PRA : N/N
If you'd like to see Silvy's pedigree, please click here.
If you would like to see our available kittens or if you have any questions please feel free to contact me about being placed on our notification list at [email protected].