Brown Boy Kitten – Born in March
Brown Bengal Kitten
Queen : Tecspot Meraki of KotyKatz
Stud : SimplyBengals Sealed With a Kiss of KotyKatz
Availability : No longer available.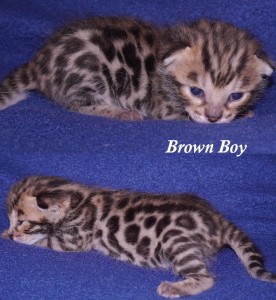 Tecspot Meraki and SimplyBengals Sealed With A Kiss have combined their super genetic mix to produce this perfect little kitten! This exotic and wild looking brown rosetted F2 boy is growing fast! Here, he is pictured here at 2 weeks of age.
Check back for updated pictures in just a few weeks.
If you would like to receive updates on this or any of our other kittens, or if you have any questions please feel free to contact me about being place on our notification list at [email protected].