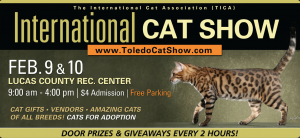 This year KotyKatz Bengals will be showing two Bengals at the Toledo Cat Show – Presented by Great Lakes Cat Consortium and Glass CiTICAts Cat Club.
The event will take place on Saturday February 9 and Sunday February 10 at the Lucas County Rec Center from 9am – 4pm. For more information about the event, exhibitors, and vendors, click here.
The Bengals shown will be KotyKatz MeeChee, and Pouncing Paws Abbymya of KotyKatz.