Voilet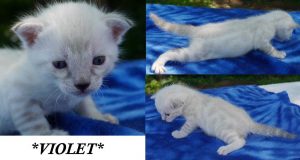 From our tribute litter, named after Gene Wilder; Willy Wonka & the Chocolate Factory characters we have this adorable female kitten Violet. The gum-chewing champion from Miles City, Montana, and daughter to a "prominent" local politician, civic leader and a used car salesman who uses Violet's television interview for free advertising of his car dealership. Like Mike Teavee, Augustus Gloop and Veruca Salt, Violet gets along fairly well with the main character Charlie. After chewing gum that is a 3 course meal, Violet begins to turn blue and inflates into a giant blueberry. While being carried off, the Oompa Loompas say in her departure song, she just needs to improve on her manners.
Check out our other Gene Wilder; Willy Wonka & the Chocolate Factory kittens :
If you would like to receive updates on this or any of our other kittens, or if you have any questions please feel free to contact me about being placed on our notification list at [email protected].