KotyKatz Fugimoto
Brown Bengal Stud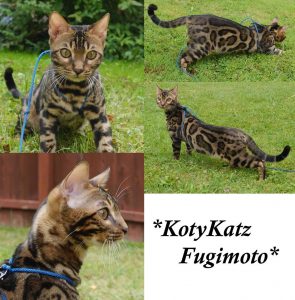 KotyKatz Fugimoto is pictured here at 7 months.
Fugimoto is just an outstanding looking cat! Even more so in person than in these pictures. He can definitely turn some heads! The rich colors of brown in his incredibly soft coat are just amazing. You can see evidence of his charcoal dad, SimplyBengals Midnight Kiss in his larger rosetting and also the warmth of color from mom, KotyKatz Barchen.
He's so sweet, loving, and very smart. Fugimoto has been color tested by UC Davis and carries Apb and Dilute.
If you'd like to see Fugimoto's pedigree, please click here.
If you would like to see our available kittens or if you have any questions please feel free to contact me. You can also join our mailing list!