KotyKatz Ponyo
Seal Lynx Point Bengal Queen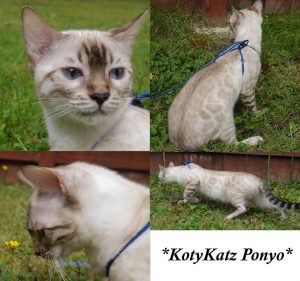 KotyKatz Ponyo is pictured here at 7 months of age. She has the same beautiful horizontal flowing pattern as her mom KotyKatz Barchen. Her rosetting starts at her shoulders and continues all the way to her tail.
Ponyo also has nice puffy whisker pads and a very good profile. Ponyo has a very cute squeak of a meow that we encourage because it's so darn cute! Seal Lynx points are born with very little pattern showing and this gets darker with age. We will continue to update her pictures so that you can see this! Ponyo has been UC Davis color tested and along with her ability to produce lynx she also carries the wild Asian Leopard Cat gene Apb.
Even though we absolutely adore our Ponyo, we have made the difficult decision to retire her and keep a few of her offspring for our breeding program. Please see KotyKatz Winter's Dalience and KotyKatz Dacre Sweeps to admire her contribution to our program!
❤ HCM: Negative September 17, 2019
If you'd like to see Ponyo's pedigree, please click here.
Join us for a short video to showcase her personality!
If you would like to see our available kittens or if you have any questions please feel free to contact me. You can also join our mailing list!