KotyKatz Fugimoto
Brown Bengal Stud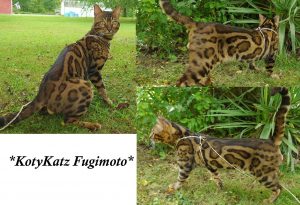 KotyKatz Fugimoto is a wonderful example of the Bengal breed even with that funky pattern! He's got perfect smaller sized ears, solid structure, and is such big a love bug!
Fugimoto's color is very rich and intense. Even more so in person than in these pictures. This is something that can be missing in many Bengals, intense color that lasts a lifetime. You can see evidence of his charcoal dad, SimplyBengals Midnight Kiss in his larger rosetting and also the beautiful warmth of color from mom, KotyKatz Barchen. What a perfect mix!  Fugimoto has been color tested by UC Davis and carries Apb and Dilute. His charcoal Bengal babies are amazing!
Let me introduce myself to you! Click here  and here to see a glimpse of my personality!
❤ HCM: Negative September 17, 2019       PK-def : N/N                    PRA : N/N
If you'd like to see Fugimoto's pedigree, please click here.
If you would like to see our available kittens or if you have any questions please feel free to contact me. You can also join our mailing list!