Akaw – Silver Rosetted Male Bengal Kitten
Availability : No Longer Available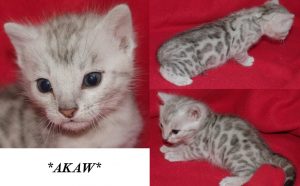 Akaw has a little face that will melt your heart! It will be interesting to see him grow and what this face looks like as an adult.
His coloration and rosetting will be a softer silver in color similar to mom Argyria. Akaw and his siblings, Choka, and Zamba are just starting to really play and show their personalities. All three are very outgoing and are sure to be mischief makers just like mom!
Newsletter
If you would like to receive updates on this or any of our other kittens, please sign up to be added to our newsletter and notification list. If you have any questions please feel free to contact us.