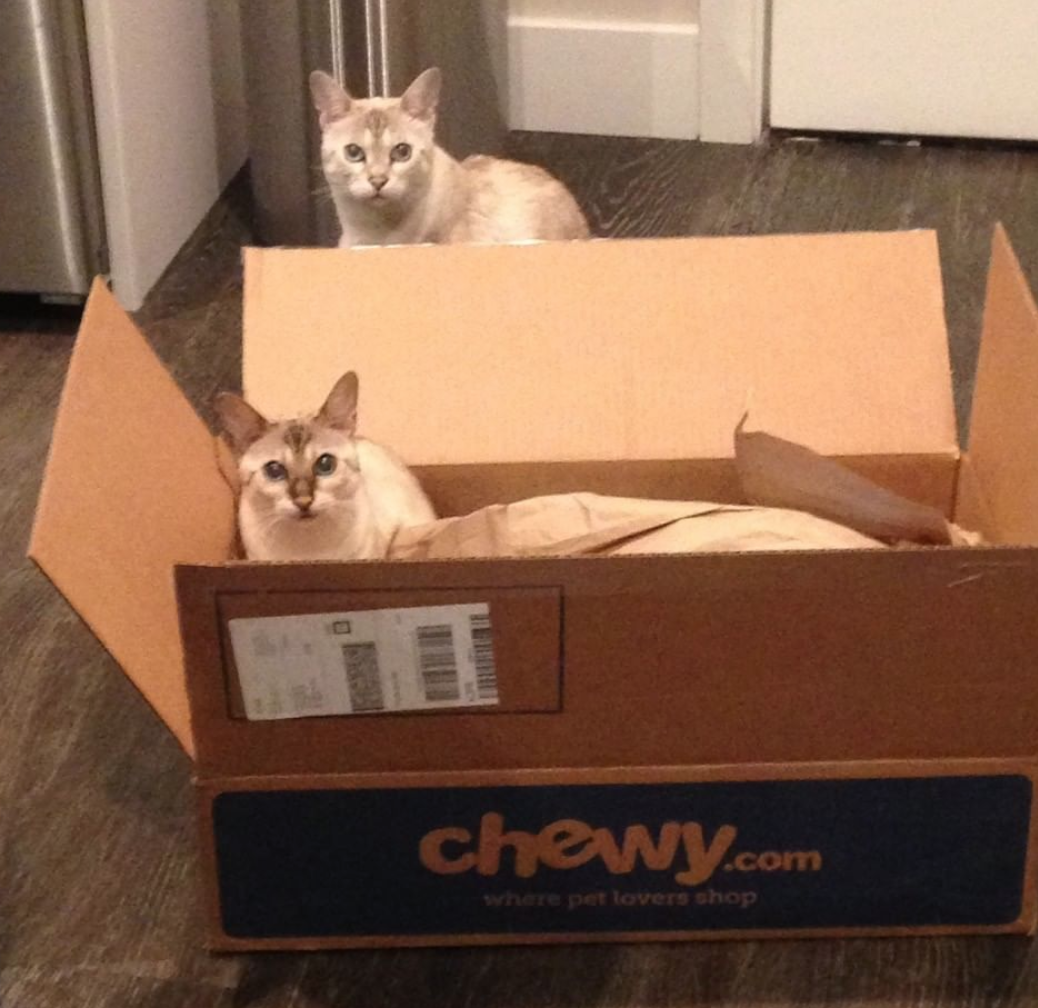 Here at KotyKatz, we love Chewy! Ordering from the Chewy app is easy. The convenience of auto-shipping lets you make sure your Bengal has everything they need and you can pick how often to ship! Auto-ship can be edited anytime so you don't have to worry about running out or having too much.  Auto-ship also gets you a 5% discount. Orders over $49 comes with two day shipping – but we're often surprised when the shipment appears next day! In the rare instance that there is ever an issue with your order, their customer service is excellent. As an added bonus, your Bengal will love the box it's shipped in and the shipping paper!
Chewy Bengal Cat Food and Snacks
Our Bengals prefer Stella & Chewy's freeze dried raw food. There's multiple varieties available, but we find that most often we are buying the Yummy Lickin' Salmon and Chicken or the Chick Chick Chicken. For those of you who want to feed a raw diet, but can't find the time or have the stomach to prepare it, Stella & Chewy's is a perfect substitute. Some of our Bengals prefer to eat the dinner morsels re-hydrated, and some prefer them in their natural dry state (which is fine, but make sure you have plenty of fresh water available.)
For our older ladies and gents with sensitive stomachs, we can also recommend the Hartz Delectables Bisque for 15+. These are single serving wet cat treats made from real chicken and tuna. This formula is easy on their stomachs and have kidney support.
Greenies Pill Pockets make it easier than ever to give your Bengal medicine if it becomes necessary. Ours prefer the Salmon flavor. Simply place the pill inside of the pill pocket and give to your cat as a treat.
Chewy Bengal Cat Toys
Chewy provides a large variety of toys for your Bengal, here are just a few of the favorites around here.
KONG Kickeroo Cat Toy – Bengal cats have a natural desire to stalk and capture their pray. These toys are fun for attacking, snuggling, wresting, and kicking! There's a crinkly texture and long fluffy tail on the toy for extra excitement. There's also a generous amount of KONG's premium catnip inside!
The Cat Dancer! They love this toy! Such a simple little toy that they go nuts over! Its got a spring steel wire and rolled cardboard ends. Use it as a wand and watch them chase, leap, flip, and run circles.
The SmartCat Bootsie's Combination Scratcher helps to keep your furniture and door jambs claw free if your little one is a scratcher!  Made of woven sisal, this scratcher has lasted longer than any other in our house and it gets used quite a bit!  Scratching is an important function for cats. It helps to tone their muschles, get rid of stress, and also to remove old nail sheaths (we still recommend keeping their claws trimmed.) We like this item because you can choose to lay it flat or mount it upright to a wall.  Some of ours even like to lay on it in the sun!
Litter Boxes, Litter, and Scoops
For Litter Boxes, we like the Petmate Top Entry Litter Pan and the Nature's Miracle Advanced Hooded Corner Cat Box. We like the top entry litter pan because it keeps more litter in the box – not on the floor and also for anyone who pees high.  The corner box is another favorite because it's large and easy for any older kitty to enter and exit. It has high side walls too for a cat that pees high.
Our favorite scoop is the DurAnimals DuraScoop Original Cat Litter Scoop. We like the large metal scoop because it won't break while scooping!
Speaking of litter boxes, and scoops, let's talk about cat litter! Frisko Multi-Cat Clumping Cat Litter is nice because it's not too dusty and does a great job at keeping odors at bay. The 40 lb size is long lasting!
Cleaning Supplies
We are a big fan of Nature's Miracle cleaning supplies. The Oxy Pet Stain and Odor Remover and the Dual Action Hard Floor Stain and Odor Remover work for removing tough stains and the hard to remove urine smells. Most importantly it's safe to use around our beloved Bengals!
Training Aids
Do you have a Bengal Cat who is a chewer? Try the NaturVet Bitter YUCK! spray. This spray is meant to discourage your Bengal from chewing on furniture, drapes, plants, wood, power cords. It's water based, and alcohol free.
PetSafe SSSCAT Deterrent Cat Spray is something we use to keep our Bengals away from areas we don't want them in. This unique spray uses a motion activated infrared sensor to detect movement up to 3 feet away. It emits a harmless, odorless, stainless spray to deter your pet from entering any off limits areas. Great for keeping your cat off the counter, away from the trashcan, or even away from your closed bedroom door at night!
The Feliway diffusers are excellent products for helping your new Bengal kitten settle in and feel at home. These products create a state of calmness and comfort to alleviate tension and conflict between cats. Great for multi-cat households.
There are multiple areas of sensitivity to keep in mind when picking out the perfect food for your Bengal cat.
Helping to keep their rosette pattern glossy, a preferred diet with added nutrients like the skin-barrier complex (four B vitamins and one amino acid), will help to promote protective functions of their skin. Both omega-3 and omega-6 fatty acids as well as specific amino acids also go a long way to promote overall skin, as well as coat health in the Bengal cat.
There are certain gastrointestinal sensitivities, like soft stool, that are very common in the Bengal. When choosing a Bengal cat food formula, be sure to review the prebiotic contents as well as other fibers. Also be sure to consult with your vet when introducing any changes to diet.
A great supplement to your Bengal cat's diet is going to be raw meat. This must be fresh and not processed. Some Bengal cat owners will prepare their food, while some buy quality commercial cat foods. What is most important is to be sure that protein is about 50%-80% of the chosen diet, while leaving room for fiber and vitamins.
After reviewing dietary requirements in the Bengal cat, one can easily see why the quality of their cat food is so very important. Chewy is a great source for meeting all of these requirements. It is obvious that their support team cares for all pets.
Ordering from the Chewy app is easy. As well, they offer the ability to auto-ship as to continue placing the same order every month. Lastly, any order over $50 comes with free one to two day shipping. In the rare instance that there is ever an issue, their customer service is excellent.