KotyKatz Kiss This
Brown Bengal Stud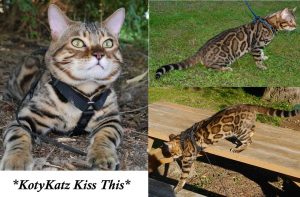 Kotykatz Kiss This is a spectacular looking boy has what is called "clouded leopard" rosetting. If you look closely you can actually see spots inside of his spots!
KT has large expressive eyes, nice smaller ears, an impressive muscular build, and a super loving personality to boot.
KT carries for Seal Lynx point so we can't wait to see what he produces when matched up with some of our girls! 
❤  HCM Negative: September 2016              PK-def : N/N          PRA : N/N
If you'd like to see Kiss This's pedigree, please click here.
If you would like to see our available kittens or if you have any questions please feel free to contact me. You can also join our mailing list!