Diamond Dogs – 6 weeks
 Stud : Simply Bengals Sealed With A Kiss
Queen : KotyKatz Amari
Availability : No longer available.
From our very first, introductory litter between Simply Bengals Sealed With A Kiss & KotyKatz Amari, Diamond Dogs is from our David Bowie tribute litter, born on New Years day. Both parents have huge rosettes and gorgeous color. As you can see, this kitten is just as gorgeous as her parents. She is a brown rosetted kitten. This kitten is confident and adventurous, look how she holds her tail high! She has such a precious little face.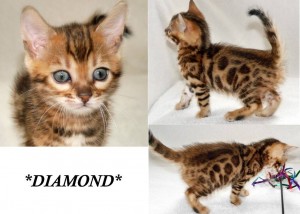 Diamond Dogs – 4 weeks
 
Diamond Dogs – 3 weeks
 
Diamond Dogs – 1 week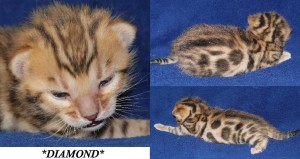 About the song Diamond Dogs by David Bowie
This is one of our favorite Bowie songs.  This song appeared on Bowie's album of the same title, released in 1974.  The guitar in this song is much heavier than Bowie's usual sound.  Some say this signaled the end of the glam rock era and the move to a more punk sounding style. This song never made the U.S. Charts and topped at 21 in the UK.
If you would like to receive updates on Diamond Dogs or any of our other kittens, or if you have any questions please feel free to contact me about being place on our notification list at [email protected].