Ziggy Stardust – 5 weeks
 Stud – Simply Bengals Sealed With A Kiss
Queen –  KotyKatz Amari
Availability – No longer available.
From our very first, introductory litter between Simply Bengals Sealed With A Kiss & KotyKatz Amari, Ziggy Stardust is from our David Bowie tribute litter, born on New Years day. Both parents have huge rosettes and gorgeous color. As you can see, this kitten is just as gorgeous as her parents. She  is a beautiful representation of a brown marble Bengal kitten. Her eyes are so full of wonderment. Look at her dive at the Mylar wand toy!

Ziggy Stardust – 4 weeks
 
 Ziggy Stardust – 1 week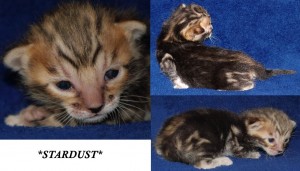 About Ziggy Stardust by David Bowie
Ziggy Stardust.  A Bowie persona, a song, a concept album, a concert film. We believe this is one of Bowie's most influential movements.  It was so unique and the influences that came from this era are endless. He says it affected his own personality and was hard to separate himself personally from Ziggy. The whole production of Ziggy Stardust, be it the persona, the song, the album, etc was a throw to the theatrical.
If you would like to receive updates on Ziggy Stardust or any of our other kittens, or if you have any questions please feel free to contact me about being place on our notification list at [email protected].