Petstages Tower of Tracks Cat Toy
Triple the tracks, triple the fun! Your cat is going to go nuts for 3 levels of ball-spinning fun with the Petstages Tower of Tracks cat track toy. This cat toy has been expertly designed with 3 levels of tracks and 3 brightly colored balls!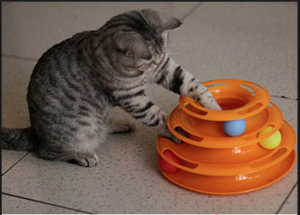 Equipped with 3 uniquely designed balls, that stimulate you cat's inner wild senses and excites their mind while they bat at every ball. This is the only cat track toy built with a closed top and no-slip base pads. Our Bengals have dove crashing into it, or lazily laid next to it barely taping the balls with their paw pad. Either way, it is hours of entertainment for both you and your Bengal!
With 3 multiple levels, Tower of Tracks by Petstages allows more than one Bengal to play, from any angle furry friends can share in the fun.
Tower of Tracks is the puurfect way for your curious cat to get both their required mental and physical exercise, keeping them healthy and engaged. All the while, also channeling their hunting instincts as they chase down the fast-moving balls.