Bowie – 6 weeks
Brown Rosetted Bengal Kitten
Queen : Bengalscape Estonia of KotyKatz
Stud : Champion Poolside Rascal Cats of KotyKatz
Availability : Currently Available.
We are very excited to announce our second litter of 2016: born January 9th! Champion Poolside Rascal Cats of KotyKatz strikes again with another litter of gorgeous rosetted babies! Mom, Bengalscape Estonia of KotyKatz, has thrown in the right mix of genetics to produce these outstanding little Bengal kittens. Of the brown rosetted kittens we have this little male, Bowie. This kitten has such a beautiful face. His rosettes are just as stunning.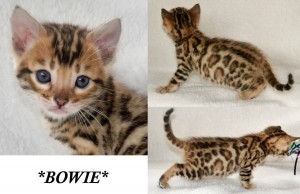 Bowie – 4 weeks
 
Bowie – 2 weeks
 
This is our David Bowie tribute litter, remembering him with kitten names like Lazarus, China Girl, Ashes to Ashes, and Fame.
About the artist David Bowie
What can you say about a man whose career spanned 5 decades, many genres, and had an influence on so many things? From rock and roll to glam rock to folk to pop to soul to funk… He was a pioneer musically, a star of the screen, and we here at KotyKatz feel so to lucky to have been on this Earth at the same time as David Bowie.
If you would like to receive updates on this or any of our other kittens, or if you have any questions please feel free to contact me about being place on our notification list at [email protected].