Planned Bengal Kitten Litters
Now Accepting Advance Deposits on Upcoming Bengal Kitten Litters!
We are now accepting advance deposits on our upcoming Bengal kitten litters due over the next few months!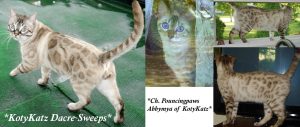 Stud: KotyKatz Dacre Sweeps
Queen: PouncingPaws Abbymya of KotyKatz
This will be an all lynx point (snow) litter. We are very excited to see exactly how beautiful these babies will be! Spotted and Marble patterns possible.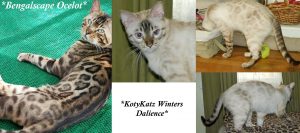 Stud: BengalScape Ocelot
Queen: KotyKatz Winters Dalience
Ocelot and Winny are bound to have some gorgeous kids! Color possibilities are: Seal lynx point, Charcoal Seal Lynx Point, Brown, and Charcoal Brown. Spotted & Marble patterns possible.
---