Planned Bengal Kitten Litters
Now Accepting Advance Deposits on Upcoming Bengal Kitten Litters!
We are now accepting advance deposits on upcoming Bengal kitten litters due in the next few months!
We hope to see gorgeous snow, silver, and brown Bengal kittens!

Stud: BengalScape Ocelot
Queen: KotyKatz Argyria
These two can produce beautiful Silver, Brown, Seal Lynx Point, and Silver Seal Lynx Point.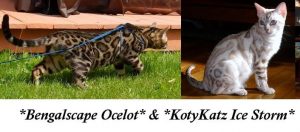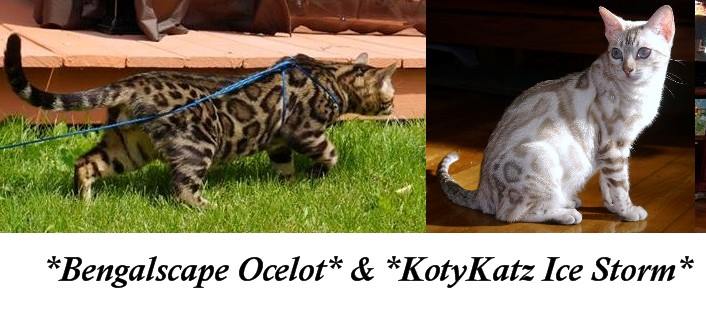 Stud: BengalScape Ocelot
Queen: KotyKatz Ice Storm
I really can't wait to see Ici's first litter! KotyKatz Ice Storm is a Silver Seal Lynx Point Bengal. It will be like Christmas watching these little ones be born because of the genetic color possibilities. This pairing can produce silver, brown, Silver Lynx Point, seal Lynx Point, and Melanistic.

Stud: KotyKatz Fugimoto
Queen: KotyKatz Cricket
This litter will be an F3 generation of Bengal and is one of my favorite pairings of the season. They will be beautiful without a doubt! I don't even have to wait until they are born to know how special they will be! However, Cricket has only produced one kitten so far in her breeding career so please keep your fingers crossed!!