Upcoming Bengal Kitten Litters
Now Accepting Advance Deposits on Upcoming Bengal Kitten Litters!
We are now accepting advance deposits on upcoming Bengal kitten litters due in the next few months!
4 litters due in Fall 2017! We hope to see gorgeous snow, silver, and brown bengal kittens!
Due Fall 2017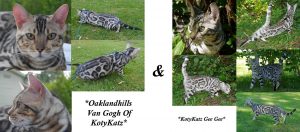 This is going to be another amazing silver to silver breeding! Van Gogh and GeeGee both have very large rosetting in chaotic patterns. Hoping for some very interesting looking kids from these two!! Kittens from this breeding will be brown or silver.

We can't wait to see the results from this silver to silver breeding of Van Gogh and Blackstar! There should be some outstanding patterns that's for sure.

Both Ocelot and Barchen are considered brown spotted Bengals. As you can see they are on opposite ends of the spectrum with Ocelot's cooler tones and Barchen's very warm tones. We hope the babies are a wonderful mix of both! Seal lynx point kittens are also a possibility!
If you would like to see our available kittens or if you have any questions please feel free to contact me or click here to join or notification list!