Planned Bengal Kitten Litters
Now Accepting Advance Deposits on Upcoming Bengal Kitten Litters!
We are now accepting advance deposits on upcoming Bengal kitten litters due in the next few months!
We hope to see gorgeous snow, silver, and brown Bengal kittens!
Planned Bengal Kitten Litters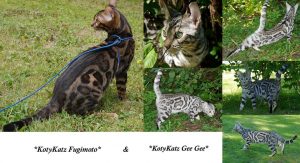 Stud: KotyKatz Fugimoto
Queen: KotyKatz GeeGee
Hoping to see some spectacular silvers and browns from Fugi and GeeGee! There should be some very interesting patterns! Both Fugimoto and GeeGee have what is called a "sparble" pattern (large irregular shaped spots.) I am curious to see if it carries through to the next generation!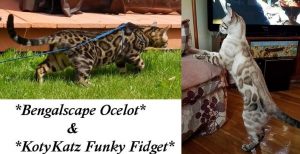 Stud: BengalScape Ocelot
Queen: KotyKatz Funky Fidget
I can't wait to see what the litter between Fidget and Ocelot bring! We have a few interesting color possibilities. Seal Lynx point, Charcoal Seal Lynx Point, Brown, Charcoal Brown. Regardless of color they will all be outstanding beauties!! Genotypically, they will carry Seal Lynx Point, and can also carry A2, a, or Apb.

Stud: OaklandHills Van Gogh of KotyKatz
Queen: KotyKatz Argyria
We can expect some gorgeous babies in brown and silver! And of course they will all be nicely rosetted with great personalities like mom and dad.
Stud: KotyKatz Fugimoto
Queen: Sephora Bellatrix of KotyKatz
This litter will be kittens of the third generation, F3. We have hopes that the beautiful head structure, strong body type, and intense color are what carries through in this litter. These little Bengal babies will all be brown in color. Males will be available for pets and most likely females will be reserved as breeders. The females, as breeders, will carry for seal lynx point and have the possibility of carrying dilute and apb. Contact me for details!
If you have any questions please feel free to contact me or click here to join our notification list!